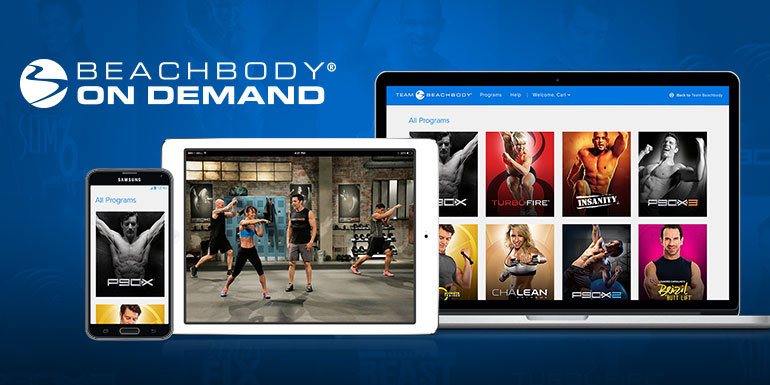 Beachbody on Demand is here! Here is my review and answers to FAQs.
In March 2015, Beachbody released its newest offering called Beachbody on Demand (as part of the Team Beachbody Club Membership). Members now have unlimited streaming access to some of the top selling programs offered by Beachbody. You can have access to this catalog of fitness programs from any device with an internet connection.
The cost of this membership is only $38.87 per quarter. That breaks down to about $2.99 per week, for access to over $1500 worth of fitness programs. Pretty amazing right?
I am obsessed with this because it not only makes fitness super accessible and affordable, but you also get the full program and nutrition guides to these programs, plus the support of your coach (hopefully me!) and the Team Beachbody community. The membership also gives you a 10% discount off all orders, as well as other tools such as meal planners and VIP access to chats with the celebrity trainers. Have I mentioned yet what an AMAZING VALUE this is???
Please read the FAQs below for additional information on this program.
Beachbody on Demand – Frequently Asked Questions
What fitness programs are available through Beachbody on Demand?
As of March 2015, the Beachbody on Demand library includes the full workout catalog and nutrition guides for the following programs:
Insanity the Asylum volume 1
Will new programs be added to Beachbody on Demand?
Yes. Beachbody on Demand offers individual sample workouts from their other
programs
so members can "try before they buy". There are currently sample workouts from PiYo, 21 Day Fix, 21 Day Fix Extreme, T25, Insanity Max 30 and more! Beachbody has stated that they will be expanding the On Demand catalog every month and will also be including sneak peak workouts from their upcoming programs before they even get released for sale.
Can I access my purchased workouts from the Beachbody on Demand catalog?
Yes, the "Purchased Programs" feature allows members to stream their DVD programs that they have previously purchased through Beachbody. Programs that are currently available under this "Purchased Programs" feature include 21 Day Fix, 21 Day Fix Extreme, and T25. This catalog is expected to expand each month so don't be mad if you don't see your favorite program offered there yet!
Can I download the workouts?
No the workouts are for streaming only. You can only view them through an internet connection.
What is the cost for Beachbody on Demand?
As I mentioned above, Beachbody on Demand is an added service for Team Beachbody Club members. The Club membership only costs $38.87 per quarter. You do not pay any additional fees for streaming videos.
What is the Team Beachbody Club Membership?
Benefits of the Club membership include:
10% discount off all Beachbody orders

Access to live trainer chats

Customized meal plans and recipes
You are billed $38.87 per quarter for this membership. You can cancel at any time, and you can even get a full refund within the first 30 days of your enrollment if you are unsatisfied with the service.
How can I sign up?
If you are already a enrolled in the Team
Beachbody
Club membership, then you don't have to do anything! You already have access to
Beachbody
on Demand. Just log into your account at www.teambeachbody.com and click on Beachbody on Demand to access the portal.
If you are not currently a Club member, you can sign up and get your first 30 days for FREE. To enroll in the Team Beachbody Club Membership and unlock your free trial
CLICK HERE
.
Or you can also enroll with the Team Beachbody Club Challenge pack. This gives you a discounted price on your first three months of the Club membership and your first month's supply of Shakeology. This is a great option because I know that nutrition is a huge component of your results. I know that Shakelogy offers a simplified way to get your daily does of nutrition so that you can feel your best and get expedited results.